Cartoon of "Snoop Dawg"
by Tiffany
(Pinson, Alabama, jefferson)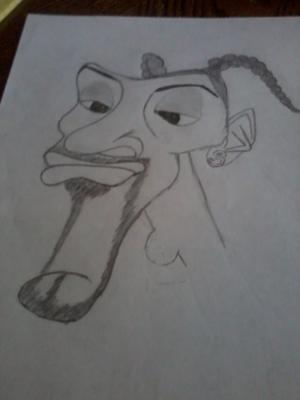 My daughter (15), had to do a cartoon project in art and this was her finished product! A cartoon version of snoop dawg.

My Reply:

Excellent pencil drawing! This is called a caricature drawing of 'Snoop Dawg' ;-). Your daughter has an excellent imagination while one can still recognize Snoop Dogg's actual face. A few info from wiki I like to excerpt about Snoop Dogg cartoon...

"The first concept, revealed in August 2006 on SnoopDogg.com, featured a cartoon dog (representing Snoop Dogg) displaying Crip gang signals while standing on a blue carpet patterned like a bandana. Had this design been used, it would have been the third of Snoop Dogg's album covers to use the cartoon likeness of the rapper that was designed by his cousin Darryl Daniel."

Thank you Tiffany for sharing your daughter's drawing on Pencil-Drawing-Idea.com. Hope to hear from you again soon.
I update Pencil-Drawing-Idea.com frequently. So, please subscribe to my monthly newsletter. It tells you each month about the new information that I have added, including interesting drawing ideas and favorite drawings by other artists.
Your E-mail Address


Your First Name


Then

Don't worry -- your e-mail address is totally secure.
I promise to use it only to send you Pencil-Drawing-Idea.com Newsletter.
Otherwise, you can subscribe to my Drawing Blog (no e-mail necessary), right-click on the orange RSS button,
, copy and then paste the URL into your RSS reader.
If you are not sure what RSS and blogging is all about, click here... What's an RSS Feed? Or click on the My Yahoo! button or My MSN or Add To Google button if you keep a personalized home page there. Once you start, you will be amazed at what RSS can do.
Please press the 'Back' button on your browser to go back to the previous page.
Return to Pencil Drawing Idea Home
---