"Are Pencil Flower Drawings
YOUR Favorite?"

Home » Pencil Flower Drawings

If flower pencil drawings are your favorite, then I'll show you with some ideas on:-

some examples of graphite pencil drawings of flower or flower pencil sketches that I've drawn as well as others, AND
the simplest way to learn to draw step by step flowers sketches online

Okay, let's see an example on how to create a 3D perspective in your pencil drawing of a flower. Click on the image below to watch the video...




Amazing isn't it? Did you get the idea of using this technique to create a 3D perspective in your flower pencil drawing?

You can use a 4B or a 6B grade type of graphite pencil.
If you find this technique useful, you can use a similar technique.
Pencil drawing of flowers are so exciting when you are sitting under a shady tree in a middle of a garden full of scented flowers.
The scenery is so important in developing your mood to start draw flowers.
So, what you need are:
a nice shady place to sit...because it might take you long hours before you finish your drawing.
a good art drawing pencil set consists of different grade of graphite pencils (B, 2B and 4B). Faber Castell, Mont Blanc, Bic or Steadtler are among the best art pencil brands.
Another thing you need is a pencil eraser and a pencil sharpener.
a light, smooth surface paper holder (preferably with a clip), and
of course, a piece of A4 paper (preferably a 80gm photocopy paper).
You can purchase your art drawing pencil set at your local art suppliers or click here for my recommendation
If you already have all that is required, than you can start your pencil flower drawings.
Okay, here are some examples flowers and I'll show you how to draw in pencil all these flowers. To view, click on any of these photo.
Pink flowers

Blooming flowers
Pink petunia

Red flower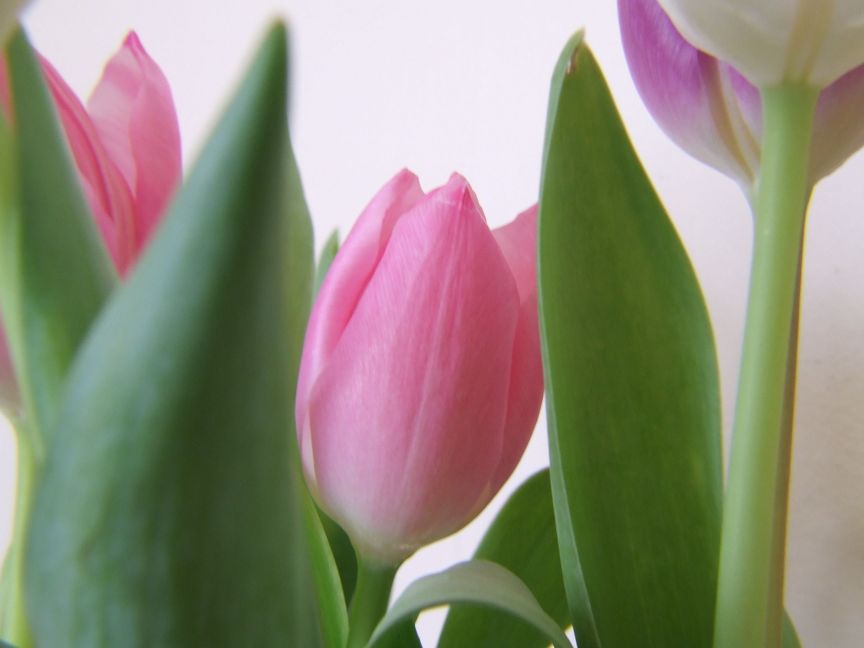 Pink tulips

White flowers

Yellow flower
If you want to learn to draw flowers, here are some easy step-by-step techniques.
Pencil Flower Drawing - Step 1.
Usually the technique of drawing involves the use of finer lines. So, the ideal choice of paper is a smooth surface paper. You can start by doing a sketch drawing in outline form, first delineating the flower petals, and finally the leaves (if you want to), using a sharpened HB grade graphite pencil.
Pencil Flower Drawing - Step 2.
With a 2B grade pencil, indicate light tones, using lines on the leaves to rended shadow areas. With short, horizontal strokes. Add light tones to the left or right side (depends on where your light source is) of the flower as medium gray tones to the opposite side by using appropriate pressure. Draw around the flower petals and leaves, silhouetting them against the background.
Pencil Flower Drawing - Step 3.
Draw the background using random pencil strokes, apply with different pressure to create tonal variation. You can now carefully blend all tones using this technique, sometimes create the tones by rubbing with your finger. Blacks were added with a 4B grade pencil. Use random strokes on the dark side of the flowers, some of them drawn over one another in a crosshatch effect. Create the inner flower parts texture with inside out curved strokes.
Pencil Flower Drawing - Step 4.
For the darkest tones, use a 4B grade graphite pencil. Add black tones in the shadows from the leaves, and tone down white areas in the background by drawing over them. Use hatched tones to darken the leaves and deepen the shadows.
Get the idea?

Easy Oil Painting Techniques
Are you really into drawing flowers? Learn how to paint photo realism flowers the easy way! This 400 year old technique will simply amaze you! For Free! Come on give us a click!
---
Found Your Favorite Pencil Flower Drawings? Share It Here!
Do you have a great tip or idea about pencil flower drawings? Share it! You can share your video too.

Tips to upload your video:

Goto YouTube.com or Metacafe.com. Signup (if you're not a member yet). Upload your video. Once published, copy the embed code and paste it in the text box below.
Want some more?
I update Pencil-Drawing-Idea.com frequently. So, please subscribe to my monthly newsletter. It tells you each month about the new information that I have added, including interesting drawing ideas and favorite drawings by other artists.
Your E-mail Address


Your First Name


Then

Don't worry -- your e-mail address is totally secure.
I promise to use it only to send you Pencil-Drawing-Idea.com Newsletter.
Otherwise, you can subscribe to my Drawing Blog (no e-mail necessary), right-click on the orange RSS button,
, copy and then paste the URL into your RSS reader.
If you are not sure what RSS and blogging is all about, click here... What's an RSS Feed? Or click on the My Yahoo! button or My MSN or Add To Google button if you keep a personalized home page there. Once you start, you will be amazed at what RSS can do.
Enjoy... this is fun!
Click here to look at other flower drawings such as rose pencil drawings.
Click here to look at Hawaiian flower drawings such as Hibiscus flower pencil drawings...
Click here to look at other Drawings of flowers
Return from Pencil Flower Drawings to Pencil Drawing Home Page
---