"Start By Drawing Pencil Sketches First..."

Home » Drawing of Pencil Sketches


Wanna start drawing?

Start by drawing pencil sketches first...

Tips for beginners

For beginners, the most important thing is to take your time. You can not expect to have a perfect hand drawn pencil sketch in an hour. Almost all great hand drawn pencil sketches have taken an enormous amount of time.

Most certainly they have come back to their drawing time and again to change and correct things and have spent more time to get the proportions right.

It can start off to be very frustrating for the beginner. And be assured, most artists haven't done a perfect drawing job first time around, but as you progress with practice and become more in touch with your drawings you will become addicted, and before long you will be drawing everyone and everything.

If you are working from a single piece of paper you will need a flat rigid piece of wood around an inch or two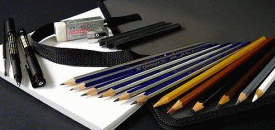 bigger than your piece of paper, which you can secure your paper on using a few pieces of blue tack to secure on each corner, you may not need this as it can be easier without, it's just what your comfortable with. (Do you know what does a good drawing pencil set consist of? Find more information on Drawing Pencil Set).
Already got your drawing pencil set? Now, you can start sketching... Do you know how to sketch? If you don't know how to sketch, then learn How To Sketch first...
Okay, are you ready to learn how to draw pencil sketches in a simple step-by-step drawing lesson?
Let's start...
---

Drawing pencil sketches No. 1 - Pencil drawings of angels - An easy way to have your pencil drawings of angels. Have a look at some examples of angel wings drawings.
---

Drawing pencil sketches No. 2 - Animal pencil sketches - Provides animal pencil sketches or animal pencil drawings examples and step by step how to learn to draw animals such as a horse, a wolf, tigers, a scorpion, a snake, dolphins and even a butterfly.
---
Drawing pencil sketches No. 3 - Pencil flower drawings - Provides easy ways to have pencil flower drawings through some flower sketches examples and step by step how to learn to draw flowers. You can start by drawing a Hibiscus sp. in your Hawaiian flower drawing topic.
---
Drawing pencil sketches No. 4 - Rose Pencil Drawings and Sketches - Learn to draw roses. There are many rose pencil drawings or rose sketches you can draw.
---

Drawing pencil No. 5 - Pencil Sketches of People - Pencil sketches of people are the most popular art of pencil drawings. There are many categories that you can have a look...
---

Drawing pencil-sketches No. 6 - How To Draw Cartoon Characters - How to draw cartoon characters of your choice. Create your own cartoon pencil drawing, it's so great to have your favorite cartoon figure everywhere...
---
Perhaps you might want to have some idea on how to draw cars. If you are interested in drawings of cars, follow this link Drawings Of Cars to view some pictures of cars, examples of car drawings and even you can customize your car drawings.
If you are interested in pencil drawing of a house, I would like to share with you a realistic House Pencil Drawing which can be printed on canvas.
---
A good friend of mine, Jon, has a nice website regarding Want To Learn How To Draw? Drawing Pencil Sketches is a great way to start. Visit http://www.drawing-pencil-sketches.com.
Found Your Favorite Drawing Pencil Sketches? Share It Here!
Or do you have your own drawing pencil sketches? Why not you share it to the world!

Tips to upload your video:

Goto YouTube.com or Metacafe.com. Signup (if you're not a member yet). Upload your video. Once published, copy the embed code and paste it in the text box below.
Want some more?
I update Pencil-Drawing-Idea.com frequently. So, please subscribe to my monthly newsletter. It tells you each month about the new information that I have added, including interesting drawing ideas and favorite drawings by other artists.
Your E-mail Address


Your First Name


Then

Don't worry -- your e-mail address is totally secure.
I promise to use it only to send you Pencil-Drawing-Idea.com Newsletter.
Otherwise, you can subscribe to my Drawing Blog (no e-mail necessary), right-click on the orange RSS button,
, copy and then paste the URL into your RSS reader.
If you are not sure what RSS and blogging is all about, click here... What's an RSS Feed? Or click on the My Yahoo! button or My MSN or Add To Google button if you keep a personalized home page there. Once you start, you will be amazed at what RSS can do.
Return from Drawing Pencil Sketches to Pencil Drawing Idea Home

---