"Drawing Pencil Set"

Home » Drawing Pencils Sets


These are what YOU need to have in a good drawing pencil set and start your own pencil drawings.
Tool #1: At least 3 graphite pencils (B, HB and 2B OR, HB, 2B and 4B),
Tool #2: A piece of pencil eraser and
Tool #3: A piece of pencil sharpener.
Tool #4: A pencil case - organize yourself! ;-)
Of course, a piece of paper and a drawing table or a smooth surface folder are also needed but these aren't included as a set of drawing pencil.

That's it!

Now let's see one by one... (Pst! If you want to contribute in saving our earth, follow this link to learn about Recycled Pencils).

Drawing Pencil Set Tool #1


Do you wonder why you need at least 3 different types of graphite pencils (B, HB and 2B OR, HB, 2B and 4B) to draw a good pencil drawing?

The answer is simple...use these 3 types of graphite pencil and you can create a realistic pencil drawing by creating tones in your drawing. Make your pencil drawings real.

I've found the best graphite drawing pencil set that you can use to draw. (Click on the image to view detail) It consists of:
2 graphite pencils (2H, HB)
3 woodless graphite pencils (2B, 4B and 6B)
3 compressed graphite sticks (2B, 4B and 6B)
1 eraser
These are several frequently asked questions regarding drawing pencil:

Do you know what are HB pencil, 2B pencil and 4B pencil?
When was the pencil invented? (You can download a free article)
Drawing Pencil Set Tool #2


A piece of pencil eraser. An eraser or a rubber is an article of stationery that is used for removing pencil and sometimes pen writings.

Typical erasers are made of rubber, but more expensive or specialized erasers can also contain vinyl, plastic, or gum-like materials.

Erasers have a rubbery consistency, and they are often white, brown or pink although with modern materials they can be any color at all. Many pencils are equipped with an eraser on one end.

Do you know what types of pencil erasers? (Click here if you're not sure...)

Drawing Pencil Set Tool #3


A piece of pencil sharpener. A pencil sharpener (also referred to as pencil parer) is a device for sharpening a pencil's point by shaving one end. Pencil sharpeners exist in both electric and hand-powered forms.

Do you know what types of pencil sharpeners for artists?

There are several types of pencil sharpeners that are available nowadays. Follow the link to learn more about Pencil Sharpeners.

Tool #4

- A pencil case.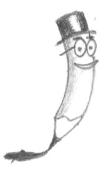 A piece of advice here...
You might face some problems to get your own set of drawing pencil which consists of varieties of pencil grades. I myself couldn't find a complete drawing pencil set that I want in my local stationary stores. You either find a same pencil grade in 3's, 6's or 12's per pack! (If you still love to get the same pencil grade per pack... Click here!)
Yet, you might need a series of pencil grades in your drawing pencil set to start your drawings and sketchings.
But, how are you going to find the best set?
Don't worry, here, I've searched the best-value-for-money for you to get your drawing pencil set online...
Let's find out what are available online...
---
Best-selling pencil drawing set #1 (Hover on the image to view detail)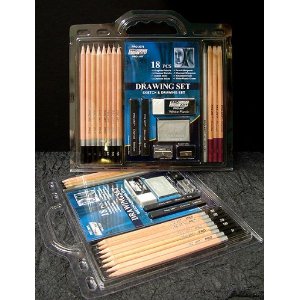 ProArt 18 Piece Drawing & Sketch Set


I've found the best drawing pencil set available on the Internet. This is a superb drawing and sketching set for both beginners and advanced artists. Just add paper and you have everything that you need for drawing a masterpiece! The set includes:

8 graphite pencils (one each 8B, 6B, 4B, 2B, HB, F, H and 2H)
3 charcoal pencils (one each 2B, 4B and 6B)
one 6B woodless graphite pencil
2 charcoal sticks (one soft and one medium)
one pencil sharpener
one charcoal sharpener
one kneaded eraser
one white plastic eraser.
Great for taking to class!
---
Best-selling pencil drawing set #2 (Click on the image / text link to view detail)

Faber Castell Complete Drawing & Sketching Set

This great set comes packed in an Artist Portfolio Bag with handles. Inside the bag are:

six graphite drawing pencils (one each of 2H, HB, B 2B, 4B and 6B)
3 sticks of pure compressed charcoal
one 8x10 inch pad of acid free white paper
one stainless steel sharpener
one dust-free white vinyl eraser
one fine point artist brush
two India Ink Artists Pens (one finepoint and one brush tip) and
six earthtone watercolor pencils.
There is plenty of room inside of the sturdy Portfolio Bag for you to add more of your own supplies. The Portfolio Bag measures 13 x 12 inches. This is a great kit for professionals and beginners alike! Perfect for students of all ages and for taking outdoors to draw en plein air.
---
Best-selling pencil drawing set #3 (Click on the image / text link to view detail)

Graphite Drawing Pencil Kit
If you're in tight budget... this is the best deal for you. This kit contains:

10 graphite pencils in different values (one each of 4H, 2H, F, HB, B, 2B, 3B, 4B, 6B and 8B)
an aluminum pencil sharpener
a white plastic eraser
It's an ideal kit for beginners or to round out your drawing supplies! I highly recommend this pencil drawing kit.
---
Follow this link for Pencil Cases - Organizing Your Pencil Set.
These are all that I've found to be among the best pencil drawing sets available online for you.
Do you have any suggestion or comment?
Post Your Comments
Since you're searching for this information on the Net, I'm sure you must have something to share or comment. Post your comment on this topic.
What Other Visitors Have Said...
Click below to see comments from other visitors to this page...

Prismacolor pencils

Here are some Prismacolor pencils examples which are highly rated by satisfied customers around the world. Please have a look! Sanford Prismacolor …
Want some more?
I update Pencil-Drawing-Idea.com frequently. So, please subscribe to my monthly newsletter. It tells you each month about the new information that I have added, including interesting drawing ideas and favorite drawings by other artists.
Your E-mail Address


Your First Name


Then

Don't worry -- your e-mail address is totally secure.
I promise to use it only to send you Pencil-Drawing-Idea.com Newsletter.
Otherwise, you can subscribe to my Drawing Blog (no e-mail necessary), right-click on the orange RSS button,
, copy and then paste the URL into your RSS reader.
If you are not sure what RSS and blogging is all about, click here... What's an RSS Feed? Or click on the My Yahoo! button or My MSN or Add To Google button if you keep a personalized home page there. Once you start, you will be amazed at what RSS can do.
Back to top of Drawing Pencil Set
Return to Pencil Drawings Homepage