"Draw 50 Animals"

Home » Animal Pencil Sketches » Draw 50 Animals


If you are looking for an easy and non-specific drawing book about animals, Lee J. Ames provides lots of books on how to draw animals easily. He has a wide range of them, from birds to insects, from wild felines to cute pets and farm animals.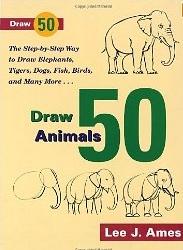 Perhaps, you might want to look at another products related to Draw 50 Animals. In fact there are lots of them. For example:
Draw 50 Baby Animals: The Step-By-Step Way to Draw Kittens, Lambs, Chicks, and Other Adorable Offspring [Paperback] by Lee J. Ames Lee J. Ames and Murray Zak.
The Draw 50 Way: How to Draw Cats, Puppies, Horses, Buildings, Birds, Aliens, Boats, Trains and Everything Else Under the Sun [Paperback] by Lee J. Ames
Draw 50 Endangered Animals: The Step-by-Step Way to Draw Humpback Whales, Giant Pandas, Gorillas, and More Friends We May Lose... [Paperback] by Lee J. Ames and Warren Budd
Draw 50 Sharks, Whales, and Other Sea Creatures: The Step-by-Step Way to Draw Great White Sharks, Killer Whales, Barracudas, Seahorses, Seals, and More [Paperback] by Lee J. Ames
And many more... Simply enter your search term below and hit 'Go'...
You can select any of these books available based on your interest. These books are great starting point for anyone who is interested in drawing but doesn't know any techniques or doesn't feel capable - yet - of drawing animals instantly.
They are perfect for beginners because they do not use hard techniques, such as shading, and with them you are able to discover which kinds of animals you would like to draw more.
You start with simple lines and shapes, and little by little you turn them into the animal which you thought you would never be able to draw.
These books are suitable for kids ages 9 to 12.
Return from Draw 50 Animals to other Animal Pencil Sketches.
Return to Pencil Drawing Home Page
---