Jessi, drawing my horse
by Ronald Lunn
(Benson, NC)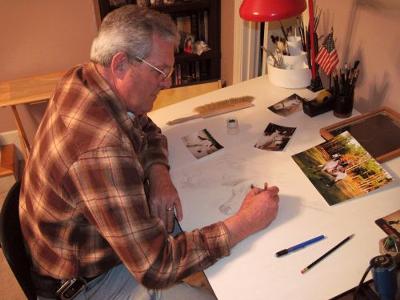 Artist at work in studio
Jessi, wild mustang has been at our ranch for over 10 years and I finally got around to drawing a portrait of her.

Make sure that you use many photographs available for reference purposes. I use some but being my horse I already am quite familiar with her appearance and mannerism.

Always try to use a good quality product when creating any of your artwork. It would be terrible to draw something perfect but the paper quality makes it less appealing. I myself use #2 pencils and charcoal pencils, an assortment of erasers along with an electric eraser, and good quality drawing paper.

Start out with a light outline of the subject matter before you begin to really shade and detail. Also, I always look for something unique, for Jessi is was her mane and darkened scare on her nose. People seeing this for the first time, know immediately that it is a portrait of Jessi.

This picture has opened another door to my talents by additional commissions to draw horses for friends and neighbors.
I update Pencil-Drawing-Idea.com frequently. So, please subscribe to my monthly newsletter. It tells you each month about the new information that I have added, including interesting drawing ideas and favorite drawings by other artists.
Your E-mail Address


Your First Name


Then

Don't worry -- your e-mail address is totally secure.
I promise to use it only to send you Pencil-Drawing-Idea.com Newsletter.
Otherwise, you can subscribe to my Drawing Blog (no e-mail necessary), right-click on the orange RSS button,
, copy and then paste the URL into your RSS reader.
If you are not sure what RSS and blogging is all about, click here... What's an RSS Feed? Or click on the My Yahoo! button or My MSN or Add To Google button if you keep a personalized home page there. Once you start, you will be amazed at what RSS can do.
Please press the 'Back' button on your browser to go back to the previous page.
Return to Pencil Drawing Idea Home
---