"Pencil Cases
Are They Important?"

Home » Drawing Pencil Set » Pencil Cases


At the beginning of each school year, I help my children prepare their binders. They use two-inch binders to compile each of their subjects – mathematics, Malay language, handwriting, creative writing, spelling, science, history, religion and English.

After the dividers are put into the binders, we see that a good quantity of lined paper is inserted between each divider. My children have vinyl pencil cases that are three-hole-punched to put in the front of their binders.

The pencil boxes or cases eliminate the confusion of finding pencils, pens, rulers, and erasers each day during school time. I allow my children to personalize their binders with self-stick letters from the office supply store. They enjoy putting their names and grade levels on the front covers, along with the brightly colored stickers they earn for their good grades and good attitudes during school.

I think, you must have your pencil box to organize yourself. I do not need to spend precious time looking for the pencil or the eraser when I wish to draw.

Organization takes a fair amount of time to accomplish but a short amount of time to maintain.

Do you want to send gifts for your children? There are lots of kid's favorite characters pencil pouch gifts such as Disney characters, High School musical, Disney Cars, various cartoon characters, Betty Boop, Barbie, Transformers pencil cases or pencil pouches presented in our "Online Store". You shall click on Kid's Pencil_Case Gifts.

A piece of advice here...

You might face some problems to get your own pencil case.

Don't worry, here, I've searched the best-value-for-money for you to get your drawing pencil set online...

Let's find out what are available online...
---
My Favorite pencil bag #1 (Hover on the image to view detail)

Hannah Montana Pink Pencil Bag
I've found most favorite pencil case available on the Internet. Approximate size: 7.75"W x 4.25"H. One reviewer said, "Very soft, roomy to hold lots of school supplies, strong zipper. Very pleased!"

Great for taking to class!
---
My favorite pencil bag #2 (Click on the image / text link to view detail)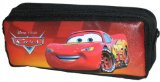 Disney Cars Lightning McQueen Black Pencil Pouch
Approximate size: 8"W x 3"H x 2"D
---
My favorite pencil bag #3 (Click on the image / text link to view detail)



Transformers Pencil Case (Red).
---
These are of course a lot more than what I've found online for you. You shall click on Kid's Pencil_Case Gifts.
Otherwise, just use the search tool below to find your favorite product...
Want some more?

Subscribe to my newsletter. This is a monthly newsletter for you to find out what are the latest announcements or offerings that can help you in relation to these topics.
Your E-mail Address


Your First Name


Then

Don't worry -- your e-mail address is totally secure.
I promise to use it only to send you Pencil-Drawing-Idea.com Newsletter.


Otherwise, you can subscribe to my Drawing blog (no e-mail necessary), right-click on the orange RSS button (see buttons below the navbar),
, copy and then paste the URL into your RSS reader.

If you are not sure what to do, Click here and follow simple instructions Or click on the My Yahoo! button or My MSN or Add To Google button if you keep a personalized home page there. Once you start, you will be amazed at what RSS can do.

Return from Pencil Cases to Drawing Pencil Set

Return to Pencil Drawing Home Page
---