"About Cartoons"

Home » How To Draw Cartoon Characters » About Cartoons


In modern print media, a cartoon is a piece of art, usually humorous in intent.

Modern gag cartoons, found in magazines and newspapers, generally consist of a single drawing with a caption immediately beneath or (less often) a speech balloon.

Editorial cartoons are a type of gag cartoon found almost exclusively in news publications. Although they also employ humor, they are more serious in tone, commonly using irony or satire.

Comic strips, also known as "strip cartoons" in the United Kingdom, are found daily in newspapers worldwide, and are usually a short series of cartoon illustrations in sequence.

In the United States they are not as commonly called "cartoons" themselves, but rather "comics" or "funnies". Nonetheless, the creators of comic strips—as well as comic books and graphic novels—are referred to as "cartoonists".

Although humor is the most prevalent subject matter, adventure and drama are also represented in this medium. Noteworthy cartoonists in this sense include Charles Schulz, Bill Watterson, Scott Adams, Mort Walker, Steve Bell.

Because of the stylistic similarities between comic strips and early animated movies, "cartoon" came to refer to animation, and this is the sense in which "cartoon" is most commonly used today.

These are usually shown on television or in cinemas and are created by showing illustrated images in rapid succession to give the impression of movement. (In this meaning, the word cartoon is sometimes shortened to toon, which was popularized by the movie Who Framed Roger Rabbit).

Although the term can be applied to any animated presentation, it is most often used in reference to programs for children, featuring anthropomorphized animals, superheroes, the adventures of child protagonists, and other related genres.

Okay, finish about cartoons...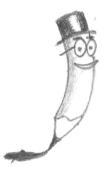 Penciley! It is your job now to show others on How to draw cartoon characters...



I have discovered more about cartoon animation and graphic. If you are interested, you can learn 2d animation - create and produce your own cartoon in only 2 weeks! Click Here!

Return from About Cartoons to How to draw cartoon characters page.
---