"Who Is Your Favorite Celebrity Drawing Pencil?"

Home » Pencil Sketches of People » Celebrity Drawing Pencil



Wonder how to draw your favorite celebrity pencil drawing?

There are lots and lots of celebrities to choose and you can start to draw a woman celebrity like Angelina Jolie to have your celebrity pencil drawing.

Here, I'll share with you how to draw Angelina Jolie from a picture. You must draw from a picture to have your portrait drawing. Follow this link - Angelina Jolie pictures - to review some Angelina Jolie pictures available online. I chose to draw Angelina Jolie because I like her sexy eyes and lips...

Tips for beginners

For beginners, the most important thing is to take your time. You can not expect to have a perfect hand drawn pencil sketch in an hour. Almost all great hand drawn pencil sketches have taken an enormous amount of time.

Most certainly they have come back to their drawing time and again to change and correct things and have spent more time to get the proportions right.

It can start off to be very frustrating for the beginner. And be assured, most artists haven't done a perfect drawing job first time around, but as you progress with practice and become more in touch with your drawings you will become addicted, and before long you will be drawing everyone and everything.

If you are working from a single piece of paper you will need a flat rigid piece of wood around an inch or two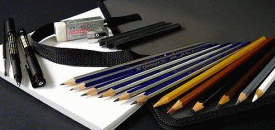 bigger than your piece of paper, which you can secure your paper on using a few pieces of blue tack to secure on each corner, you may not need this as it can be easier without, it's just what your comfortable with. (Do you know what does a good drawing pencil set consist of? Find more information on Drawing Pencil Set).
Other celebrity pencil portrait drawings:
Okay, are you ready to learn how to draw Angelina Jolie in a simple step-by-step drawing lesson?
Let's start...
---
Here is the picture of Angelina Jolie that I refer


Click the video to watch a step-by-step drawing.
Celebrity drawing pencil - Angelina Jolie: Step 1



Like any other drawing, you have to start from sketches first. Use a sharpened 2B grade graphite pencil from your drawing pencil set. Start to draw a face. An easy way is to determine what is the shape of your subject. In this case, you can sketch an oval shape and placed a vertical line to position her face (tilt or facing to a side).

Then sketch two horizontal lines at the upper part (to position her eyes) and at the lower part (to position her mouth / lips).
---
Celebrity drawing pencil - Angelina Jolie: Step 2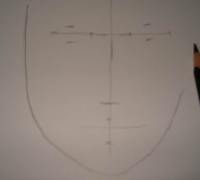 After that, you sketch small strokes to position the length and width of both her eyes, nose and mouth. You can see how you can do the way I did through the picture.




---
Celebrity drawing pencil - Angelina Jolie: Step 3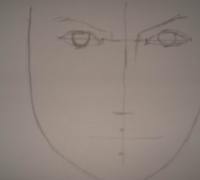 In this step, focus to draw her eyes. Lenghten the upper sketch from one end to the other end to position her eye lashes. Draw two circles below the eye lashes to represent her iris. Then raw her eye brows.




---
Celebrity drawing pencil - Angelina Jolie: Step 4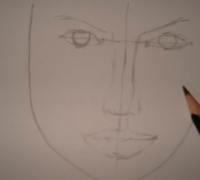 Continue to draw her nose and lips. Put a little bit of pressure on your 2B grade pencil to outline your sketch leaving your horizontal and vertical lines untouched.




---
Celebrity drawing pencil - Angelina Jolie: Step 5


Gently erase unwanted lines by using a soft eraser. You can look at the picture.
---
Celebrity drawing - Angelina Jolie: Step 6
Take out a sharpened 4B or 6B grade graphite pencil and start toning her eyes. Start from your left if your are a right-handed person and vice-versa.
Put special emphasize on creating light effects on her eyes.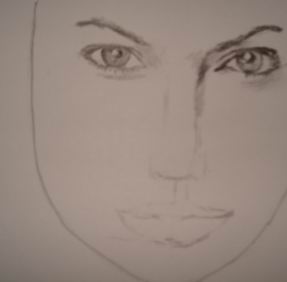 ---
Celebrity drawing - Angelina Jolie: Step 7
Continue to put tones on her nose and lips. Start to erase a part of her chin that is covered by her hand. Pic 10 and 11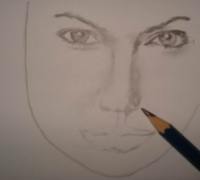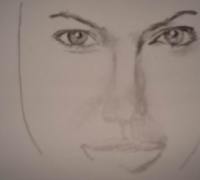 ---
Celebrity drawing - Angelina Jolie: Step 8
Start to draw her hair, put more pressure on creating her cheeks and make shadow on her left and right cheeks. Continue to draw her hair and her hand. Do final touch-up here and there.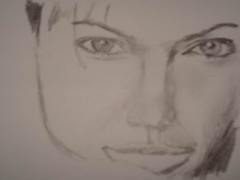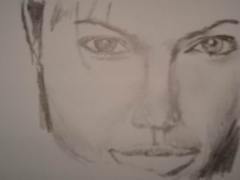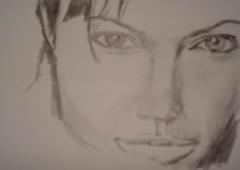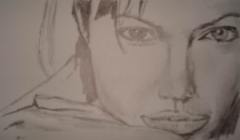 ---


Lastly,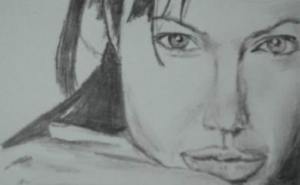 Your hand drawn Angelina Jolie
Get the idea? You can repeat the same process on any of your favorite celebrity.
There are also celebrity drawing pencil portraits which are available for you to have them printed on canvas.
Did you know that you can have all these poster printed on various items as gifts for your someone special? Learn more on how to have your personalized gift, for example, gift for kids as your special gift to them.

Found Your Favorite Celebrity Drawings?
Why not share it to the world!
Other Visitors' Contributions...
Click below to see contributions from other visitors to this page...

Perhaps you might want to learn easy steps on how to draw portraits of your favorite celebrity, I highly recommend you to download this ebook: Realistic Pencil Portrait Mastery Home Study Course. It is designed for anyone who wants to create realistic pencil portraits on the "real master level" that most artists in the world rarely reach, the quick and easy way.
Want some more?

Subscribe to my newsletter. This is a monthly newsletter for you to find out what are the latest announcements or offerings that can help you in relation to celebrity drawing pencil.
Your E-mail Address


Your First Name


Then

Don't worry -- your e-mail address is totally secure.
I promise to use it only to send you Pencil-Drawing-Idea.com Newsletter.


Otherwise, you can subscribe to my Drawing blog (no e-mail necessary), right-click on the orange RSS button (see buttons below the navbar),
, copy and then paste the URL into your RSS reader.

If your not sure what to do, Click here and follow simple instructions Or click on the My Yahoo! button or My MSN or Add To Google button if you keep a personalized home page there. Once you start, you will be amazed at what RSS can do.



Return to Pencil Sketches of People

Return from Celebrity Drawing Pencil to Pencil Drawings Home.




---