My Chrysler 300 drawing
by Brandon Partin
(Hickory, NC, USA)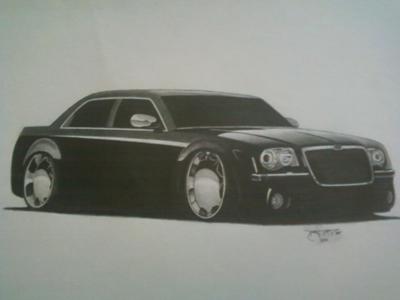 My Chrysler 300 drawing
I have been drawing since i was a kid, and over the years have gone from a side view profile outline to full blown shading/3d views. no art school, just very passionate about cars. prefer mopar products, but will draw anything the customer wants. hope you enjoy my pic.

My Reply:

Hi Brandon! Thank you again for your posting. I really enjoy your perfect Chrysler 300 drawing. You got talent and very bright future in art drawings. As I mentioned in your previous post (https://www.pencil-drawing-idea.com/some-of-my-artwork-from-the-past-6-months.html), you can post as many webpages as you want and I'll approve them as soon as possible. By the way, you and your customers will be able to comment and give ratings on your drawings. So, I think you can post each of your car drawing with specific title and describe on your specific car drawing, eg., since you put "My Chrysler 300 drawing" as your title, then please describe on your Chrysler 300 drawing (such as type of pencils, type of paper, how long did you take to complete your Chrysler 300 drawing and a link to contact you or if you've your own link for your customers to purchase directly). I really want to help you promote your artworks Pencil-Drawing-Idea.com free of charge!
I update Pencil-Drawing-Idea.com frequently. So, please subscribe to my monthly newsletter. It tells you each month about the new information that I have added, including interesting drawing ideas and favorite drawings by other artists.
Your E-mail Address


Your First Name


Then

Don't worry -- your e-mail address is totally secure.
I promise to use it only to send you Pencil-Drawing-Idea.com Newsletter.
Otherwise, you can subscribe to my Drawing Blog (no e-mail necessary), right-click on the orange RSS button,
, copy and then paste the URL into your RSS reader.
If you are not sure what RSS and blogging is all about, click here... What's an RSS Feed? Or click on the My Yahoo! button or My MSN or Add To Google button if you keep a personalized home page there. Once you start, you will be amazed at what RSS can do.
Please press the 'Back' button on your browser to go back to the previous page.
Return to Pencil Drawing Idea Home
---