"Drawings Of Cars - How Do You Draw A Car?"

Home » Drawings of Cars


If car drawings are your favorite, then I'll show you with some drawings by various artists with which you can get some ideas before you draw a car.

Now, I'll show you with some car drawings made to be printed on canvas or other materials as amazing tropical home decor such as a wall tapestry:

For beginners, before you start your car drawings, make sure you get few car posters or car images that interest you. Choose the one which is convenient to you. You can practice to draw based on your favorite pictures of cars. As practice makes perfect...

So, what you need to do before you draw cars are:
a nice place to sit...because it might take you long hours before you finish your drawing.
a good art drawing pencil set consists of different grade of graphite pencils (B, 2B and 4B). Faber Castell, Mont Blanc, Bic or Steadtler are among the best art pencil brands.
Another thing you need is a pencil eraser and a pencil sharpener.
a light, smooth surface paper holder (preferably with a clip), and
of course, a piece of A4 paper (preferably a 80gm photocopy paper).
You can purchase your art drawing pencil set at your local art suppliers. Otherwise you can get it here...
If you already have all that is required, than you can start your drawings of cars in pencil.
Create your own car drawings based on what you see on your car picture. Start with few basic pencil sketches forms as I've mentioned in my drawing pencil sketches.
Already have one? Hang it on your room's wall. I highly recommend that you scan your drawings of cars or at least take a few snaps using a digital camera and then store your images at any available free image hosting company like Photobucket.
Or, you can have your own personalized t-shirts from your car drawing. Visit Custom T-Shirts to have yours... There is no minimum order required.
---
Pictures of Cars
Okay, here are some examples of pictures of cars that will inspire you to draw cars. There are new as well as old pictures of sports cars for your inspiration. Click on the automobile pictures to view details...
Pictures of Cars #1: Ferrari - 430 Scuderia
---
Pictures of Cars #2: Ferrari - California
---
Pictures of Cars #3: Ferrari - Scuderia Spider
---
Pictures of Cars #4: Mr Le Mans and The Bentley Boys
---
Pictures of Cars #5: Corvette Lister 327, 1958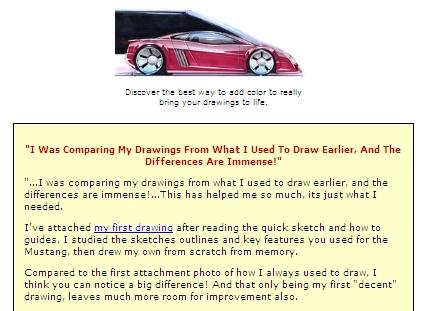 If you've ever wanted to draw cars quickly and easily ... using the exact same insider tips and techniques of the pros ... produce amazing drawings of your favorite cars effortlessly ... and fast track your drawing skills to the levels of the pros without spending thousands of dollars and years attending college ... then this is going to be the most exciting message you'll ever read!
Discover the shortcuts to the secrets of drawing cars like the pros. Learn more on how to draw cars ...
---
Car Drawings
Now, let us look at some pencil drawings of cars by other talented artists. I have selected the best car drawings which are available for you to get it printed on canvas, framed it and shipped to you without any hassle.
Drawings of Cars #1: An Antique Car Drawing by Philip Konen
---
Car Drawings #2: Mustang by Angelee Borrero
Comment from artist: I have always been into cars - i dont know anything about them but i know what i think looks good. I have always liked mustangs and have always wanted one. I dont have money to get one so i decided to do the next best thing, draw one. Drawing all the in and outs, the curves and dips made me fall in love with them even more. Hopefully one day i will be able to afford one.
---
Drawings of Cars #3: Classic Car,1928 T35B Bugatti Grand-Prix by Carol Gauldin
---
Drawings of Cars #4: 56 Chev by Philip Konen
---
Drawings of Cars #5: artfact by Philip Konen
---
Customize Your Car Drawings
Perhaps you might want to have customize car drawings for your loved ones. Here are some car drawings which you can select and customize your name on it.
Customize Car Drawings #1: Love Bugs and Love Bugs II
Or,
Watch the sunset over the city skyline with your love bug and personalize this romantic pencil sketch. As a stretched canvas or a framed fine art print, it would make a wonderful addition to any room's decor. Personalize it with your own words: Love Bugs or Love Bugs II.
---
Customize Car Drawings #2: Concept Car
Fully loaded and fully fictional! Make this car your concept car by adding your own unique license plate wording. Hang in your work garage or above your desk as a premium luster print.
---
Customize Car Drawings #3: Yellow Porsche Watercolor
If you can't afford to give him a Porsche for his birthday, you can at least send him a Porsche watercolor with his name on the license plate. He can't drive it, but it still looks good on display in an office or bedroom.
---
Perhaps you might want to search for more products related to car drawings. Please use the search tool below...
---
Share Your Drawings
---
Want some more?
Subscribe to my newsletter. This is a monthly newsletter for you to find out what are the latest announcements or offerings that can help you in relation to these topics.
Your E-mail Address


Your First Name


Then

Don't worry -- your e-mail address is totally secure.
I promise to use it only to send you Pencil-Drawing-Idea.com Newsletter.
Otherwise, you can subscribe to my Drawing blog (no e-mail necessary), right-click on the orange RSS button (see buttons below the navbar),
, copy and then paste the URL into your RSS reader.
If you are not sure what to do, Click here and follow simple instructions Or click on the My Yahoo! button or My MSN or Add To Google button if you keep a personalized home page there. Once you start, you will be amazed at what RSS can do.
Return from Drawings of Cars to Pencil Drawings Home Page.
---