Some of my artwork from the past 6 months
by Brandon Partin
(Hickory, NC USA)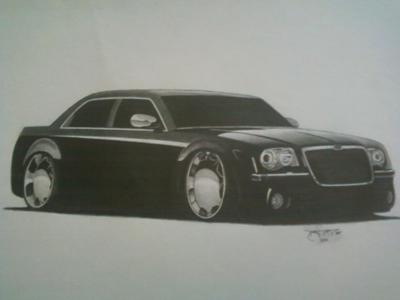 i have always drawn cars since i was a child, and through the years have gotten better at it. i went from rough outlines of side views to fully shaded 3d views. i have only taken art 1 in high school, and nearly failed that class because the only thing i wanted to draw. now i draw cars for customers on occasion. if i'm not selling them, then i will draw them for myself to hang in my house. my preference is muscle cars, more specifically, mopars (dodge, chrysler, plymouth) but have drawn just about every kind of car out there. hope you enjoy my pic.

My Reply:
Thank you Brandon for sharing your excellent piece of art! I really enjoy your car drawing. I thought there are many of those quality artworks. Hope you can post them here as well. Since you are doing art for your customers, I am willing to offer you as many webpages as you want to advertise your different type of car drawings. Simply post them with a paragraph of your description and your link for your customers to contact or buy from you using the same tool on my website and I will approve them as soon as possible. Thank you and hope to hear from you soon!
I update Pencil-Drawing-Idea.com frequently. So, please subscribe to my monthly newsletter. It tells you each month about the new information that I have added, including interesting drawing ideas and favorite drawings by other artists.
Your E-mail Address


Your First Name


Then

Don't worry -- your e-mail address is totally secure.
I promise to use it only to send you Pencil-Drawing-Idea.com Newsletter.
Otherwise, you can subscribe to my Drawing Blog (no e-mail necessary), right-click on the orange RSS button,
, copy and then paste the URL into your RSS reader.
If you are not sure what RSS and blogging is all about, click here... What's an RSS Feed? Or click on the My Yahoo! button or My MSN or Add To Google button if you keep a personalized home page there. Once you start, you will be amazed at what RSS can do.
Please press the 'Back' button on your browser to go back to the previous page.
Return to Pencil Drawing Idea Home
---