Wolf Pencil Drawings

Home » Animal Pencil Sketches » Wolf Pencil Drawings

Do you like to draw a wolf?

Yes, I like to draw a wolf too. It is one of my favorite wildlife pencil drawings. I'm sure you too like to draw other wildlife drawings such as tigers, horses, dolphins and other wildlife creatures.

A wolf is a mammal of the order Carnivora under Canidae family. There are many different species of wolves. The largest wild wolf is a gray wolf. Some might spell it as a grey wolf.

Though once abundant over much of North America and Eurasia, the gray wolf inhabits a very small portion of its former range because of widespread destruction of its habitat.

However, the gray or grey wolf is regarded as being of least concern for extinction according to the International Union for the Conservation of Nature and Natural Resources.

Today, wolves are protected in some areas, hunted for sport in others, or may be subject to extermination as perceived threats to livestock and pets.

Okay... let's start on how to draw a wolf. Watch slideshow video tutorial or read (click the link) a step-by-step tutorial.

For beginners, before you start your wolf pencil drawing, make sure you have a photo or a picture of a wolf...

So, what you need is:

a nice place to sit...because it might take you long hours before you finish your wolf drawing.
a good art drawing pencil set consists of different grade of graphite pencils (B, 2B and 4B). Faber Castell, Mont Blanc, Bic or Steadtler are among the best art pencil brands.
Another thing you need is a pencil eraser and a pencil sharpener.
a light, smooth surface paper holder (preferably with a clip), and
of course, a piece of A4 paper (preferably a 80gm photocopy paper).
You can purchase your art drawing pencil set at your local art suppliers. Or you can go to our recommended Drawing Pencil Set web page for you to have the best value-for-money in acquiring one drawing pencil set...

If you already have all that is required, than you can start your wolf pencil drawings.

Below is an overview of what you might learn in this step by step wolf drawing lesson. Just click on the link to view the details of each step.

How To Draw A Wolf, Step No. 1





How To Draw A Wolf, Step No. 2



How To Draw A Wolf, Step No. 3



How To Draw A Wolf, Step No. 4



How To Draw A Wolf, Step No. 5



How To Draw A Wolf, Step No. 6



How To Draw A Wolf, Step No. 7





And finally...



---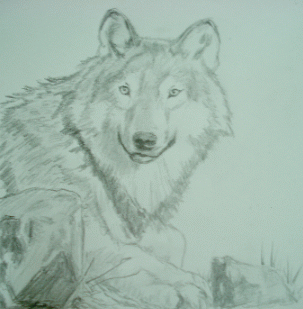 Your hand drawn wolf pencil drawing...
---
Get the idea on how to draw a wolf in pencil?
Keep it in a folder or paste it on your room's wall. I highly recommend that you scan your artwork or at least take a few snaps using a digital camera and then store your images at any available free image hosting company like Photobucket. Just hit the image below!

Or, you can have your own personalized t-shirts from this angel drawing. Visit Custom T-Shirts to have yours... There is no minimum order required. Just hit on the image below

Click here if you like to ask or comment regarding my step by step lesson.




Wanna share your experience in wolf drawing in the form of videos, ideas or tips?

Back to top of Wolf Pencil Drawings

Return to Animal Pencil Sketches.

Return to Pencil Drawing Home Page
---